I've got my 'Herbst Hits 2020' playlist on, a warming cup of tea next to me, and I'm ready to share some of my recent explorations and recommendations with you… Los geht's! By Anna Whitehead.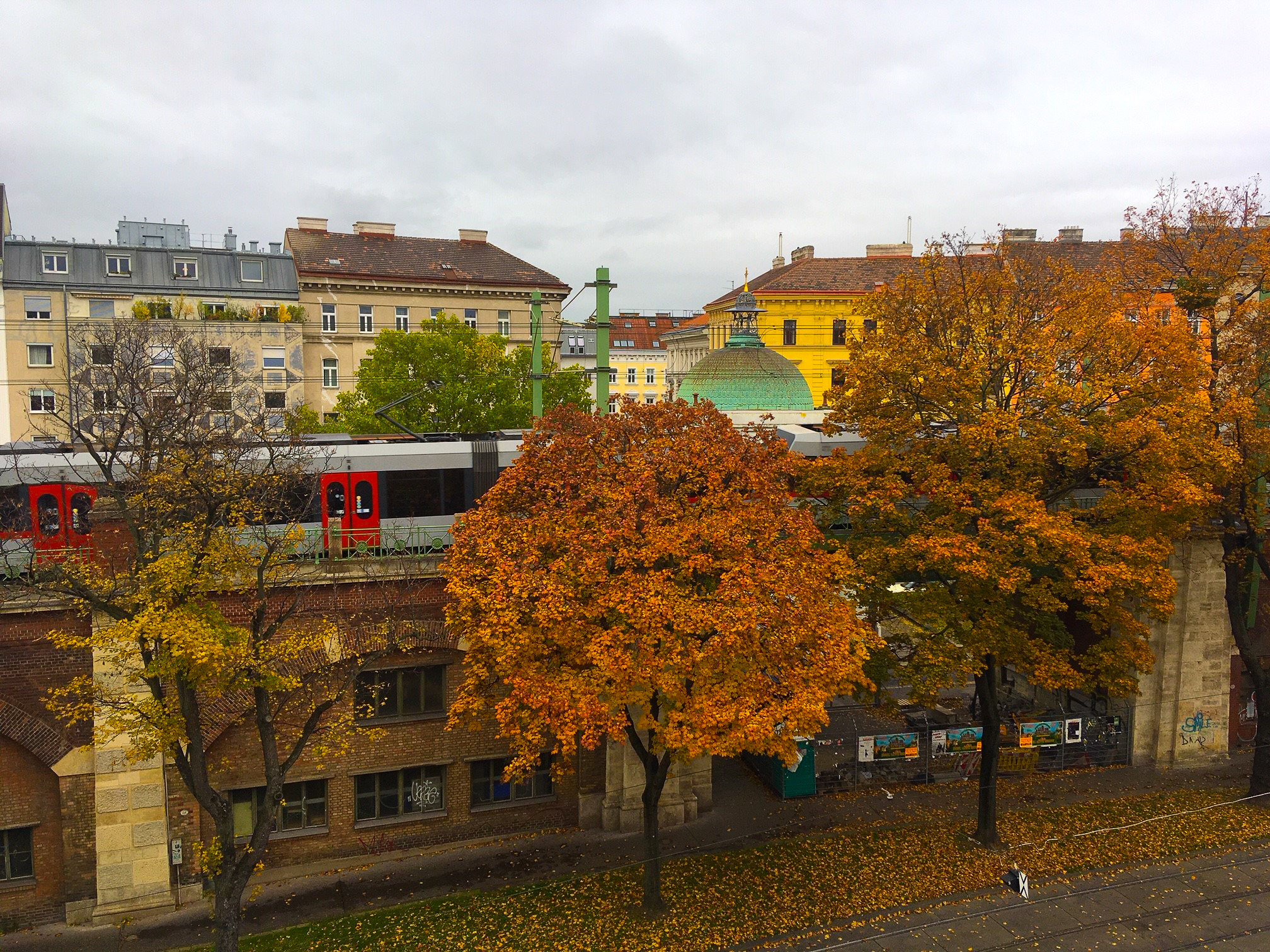 Autumn outside. (c) Anna Whitehead.
When I moved to Vienna back in September it was warm enough to take an evening dip in the Donau, grab an ice-cream at Zanoni & Zanoni, and definitely hot enough to make the journey to the third floor of the lovely Mediatrix-Heim here on Währinger Gürtel feel like a sweaty workout. Skipping forward a month and a half, past my eventful first few weeks as an Erasmus student at the Universität Wien, we're well and truly into my favourite season: Autumn, or 'Fall', as our American friends call it. I've got my 'Herbst Hits 2020' playlist on, a warming cup of tea next to me, and I'm ready to share some of my recent explorations and recommendations with you… Los geht's!
#1 The Wiener Stadtwanderwege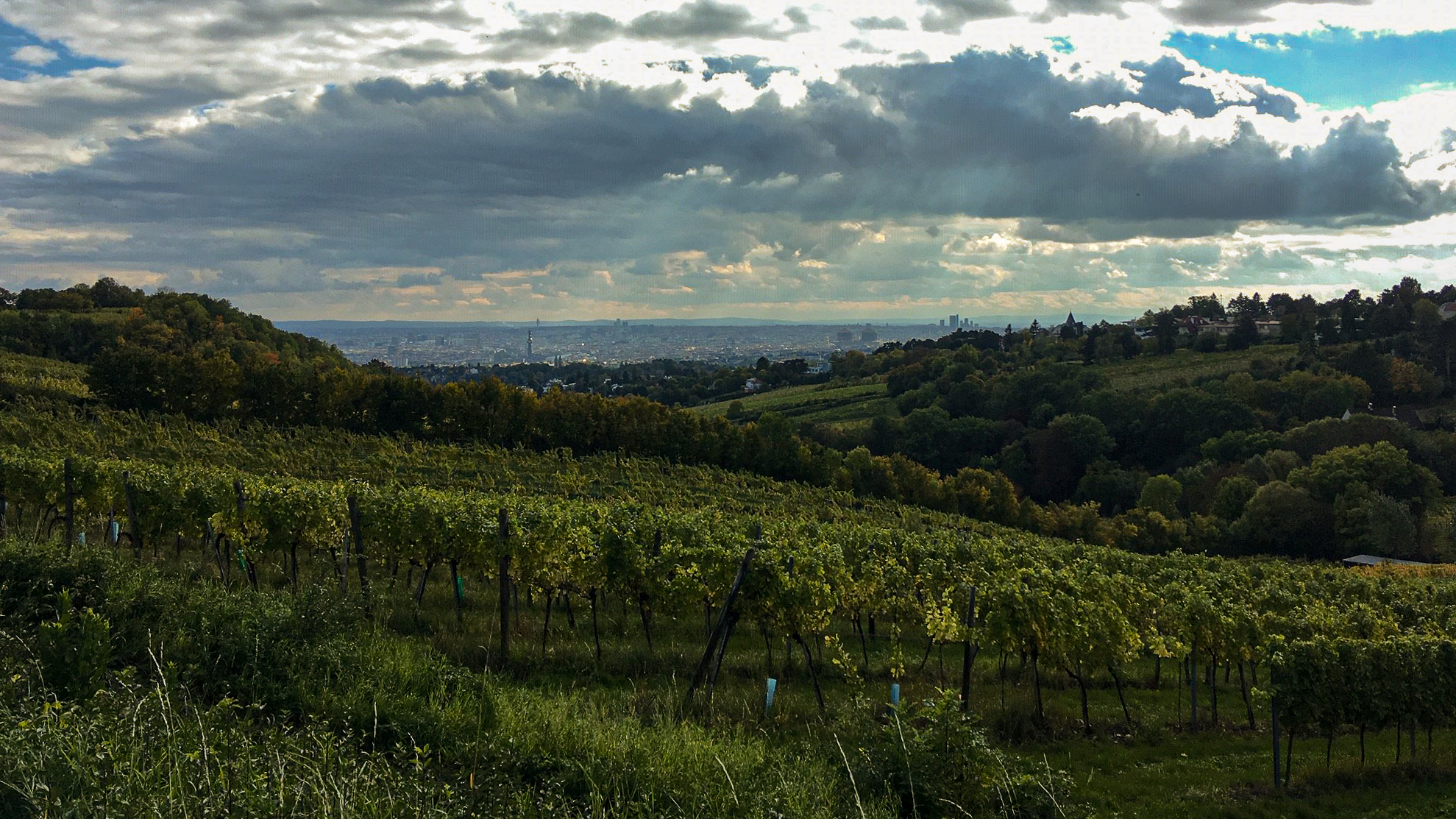 Stadtwanderweg. (c) Anna Whitehead.
Vienna is the only capital city in Europe with a substantial number of vineyards within the city boundary, and an afternoon trip following one of the many Stadtwanderwege is a great way to see them for yourself and offers a much needed break from the grandeur of the metropole. The starting point of Stadtwanderweg 1 is the end of the Tramline D, which you can take from just outside Spittelau U-Bahn – in less than 20 minutes you can be whisked away from the studentdorm Muthgasse and straight into nature.
With incredible views over the city and the Danube, sloping vineyards and cosy Heuriger where you can enjoy the last offerings of Sturmzeit before heading back down, it's no wonder that Vienna consistently ranks the 'most livable' European city. The view was just so unbelievable that there was an old man walking up a near-vertiginous hill backwards with his walking stick just to admire it, and if that doesn't persuade you, I don't know what will (I still have a little chuckle to myself just thinking about him…).
#2 Trip to Wachau Region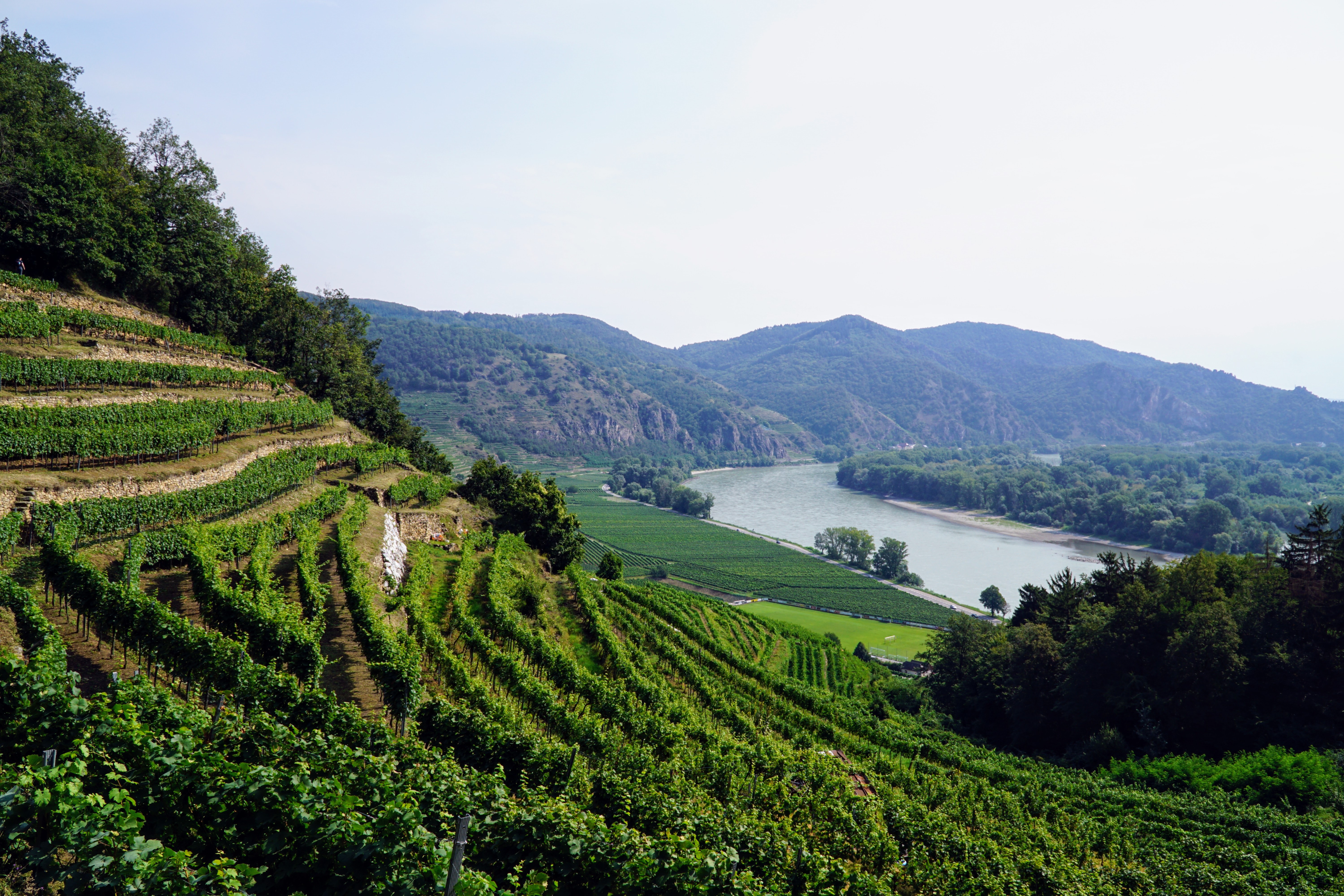 Wachau at its finest. (c) Zsolt Serna on Unsplash.
If the Stadtwanderwege don't provide enough of an escape, or you're looking for a day trip off the beaten track, then you will find your answer in the unsuspecting U6 terminus: Floridsdorf station – perfect for the people living in the Thomas Morus Heim. After an hour of watching the bucolic Austrian countryside slip by, you reach Krems an der Donau, one of the larger towns on the Danube which marks the beginning of the Wachau. Wandering aimlessly around its historic centre and cobbled streets, stopping to admire one of the Baroque churches or the pastel-coloured houses, will make you feel like you're walking through a fairy-tale book. From Krems you can stroll along the banks of Danube, humming Strauss' famous waltz An der schönen, blauen Donau while you go (optional, but highly recommended), all the way to Stein an der Donau. If you're ready to be misled by Google Maps and are feeling fit, you can embark on another vineyard climb up to the Donauwarte Krems, and with more luck than me, you'll hopefully be able to see across the Danube basin and far into the hills. Nestled up high you can spot the outline of Stift Göttweig, a working monastery which surely merits a daytrip of its own.
#3 The Viennese Kaffeehauskultur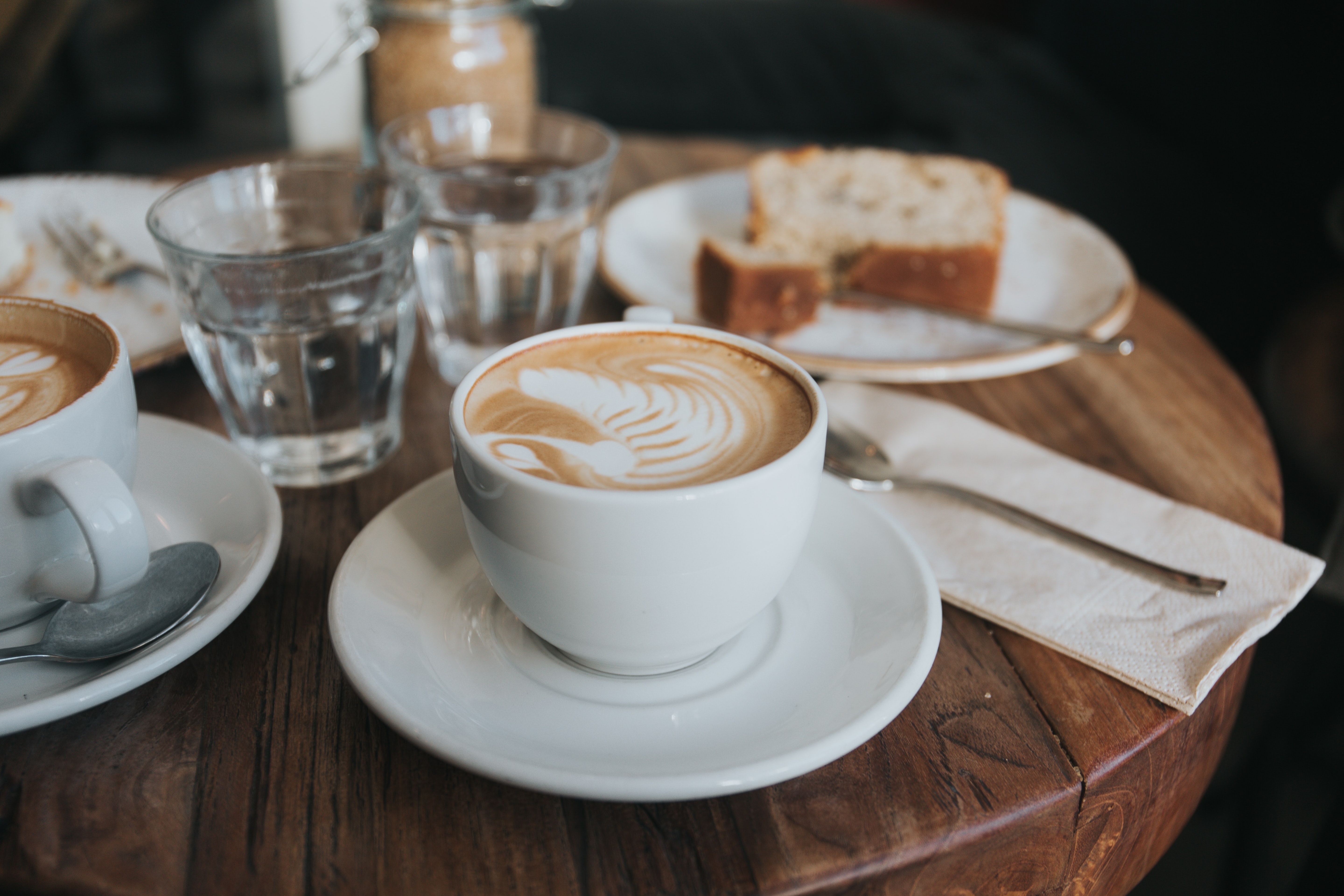 Coffee. (c) Alisa Anton on Unsplash.
I couldn't possibly write a blog without mentioning that key motivating factor to move to Vienna – the Kaffeehauskultur – and what better way to spend an autumnal afternoon than sipping on your Wiener Melange and tucking into a slice of Sacher Torte or Apfel Strudel. Stepping into Café Landtmann or Café Central feels like stepping back into the days of a bygone era, and Gustav Mahler's rather apt but slightly ominous remark, 'If the world ends tomorrow, I would go to Vienna. Everything happens fifty years later there', certainly comes to mind ('Wenn die Welt untergeht, fahre ich nach Wien, denn dort passiert alles 50 Jahre später'). You can easily while away a whole afternoon there catching up with a friend, or even exchanging anecdotes with an author, but that's surely a story for another post… If you'd rather not have the waiter-in-a-waistcoat experience, then there are plenty of student hangouts dotted around the city too. I can confirm that there are plenty of latte-sipping millennials working on their MacBooks at both Jonas Reindl (next to the Votivkirche) and Café 7Stern (in the 7th District). The latter also has an excellent selection of cakes to keep you motivated!
#4 Quality time with flatmates
Don't fancy heading out into the wind and the rain? How about slipping on your thinking hat instead of your raincoat and hosting an evening in with your fellow residents? I recently came across a meme on Instagram that read 'Pumpkin Soup is the Banana Bread of the Second Wave' ('Kürbissuppe ist das Bananenbrot der Zweiten Welle') and couldn't help tagging my flatmate, who had just made a delicious pot for us a few nights before. A simple yet warming and cosy treat for autumnal evenings, the power of the pumpkin is not to be underestimated.
Finding community in times of corona can be challenging, but with a bit of creativity and a trip to HOFER, you can easily find a way to bring your flatmates together. I recently had a go at baking a carrot cake; there's nothing quite like the smell of a cake in the oven to entice hungry students out of their bedrooms and away from their virtual lectures.
#5 Check out the local libraries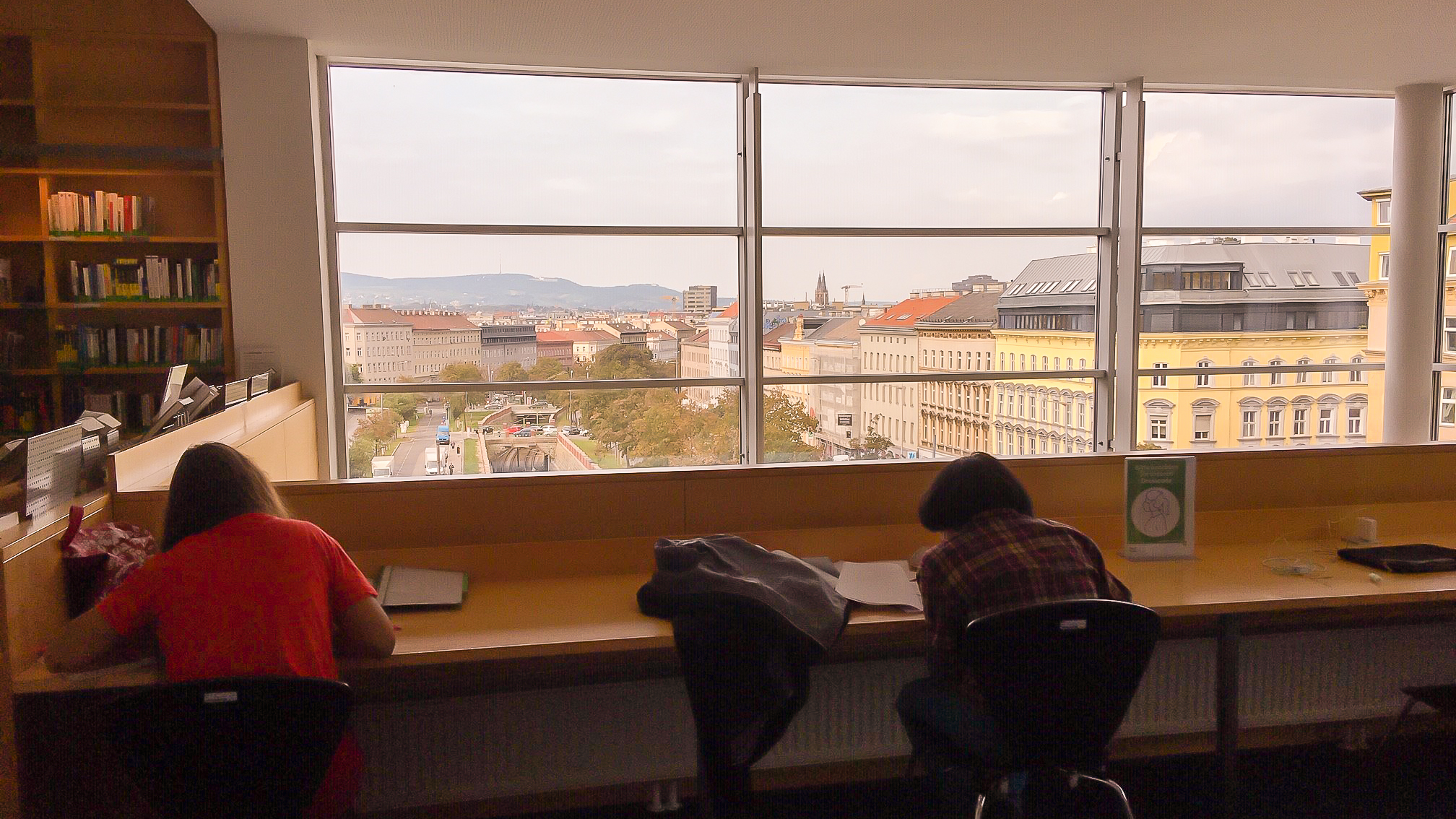 The Central Library in Vienna. (c) Anna Whitehead.
And finally, if you've really got some work to do, or are suffering from the 'Week 5 Blues' as we call this period of accumulated deadlines and late-night essay writing in Cambridge, then how about hunkering down in a local library? The Hauptbücherei Wien is just a quick ten-minute ride on the U6 from the Mediatrix-Heim and from the Wiener Heim and is directly above the Burggasse-Stadthalle stop, so you don't even need to step outside if it's raining – no excuses! With several floors and stunning views looking out into the Wiener Wald, you'll feel marginally better about spending the afternoon on your laptop. Make sure to get there in the morning or just after lunch if you want a top spot though – otherwise you might end up on a soft, sleep-inducing sofa, as I did…
Vienna - a truly beautiful city
Vienna at this time of the year is a truly beautiful city, with so much nature right on the doorstep. I've really enjoyed exploring and finding cosy spots around the capital, but I have to admit, now that the days are getting shorter and the winter lights are being installed … I can't wait for the Glühwein!
About the author
I'm Anna Whitehead and I'm a newcomer to Vienna, having made the decision to trade the dusty bookshelves of the University of Cambridge for all the Kaffee, Kuchen und Kultur that an Erasmus year at the Universität Wien would offer! I'm interested in Austrian literature and politics, enjoy learning languages and telling questionable puns. You can find a couple of stories over at https://annaw51.wixsite.com/annadventurelog, as well as a few snaps on the gram - @anna_whitehead11.